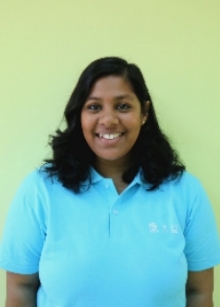 Qualification:

Rhodes University – Bachelor of Arts and Education
Hi there! My name is Justine Naicker and I am so excited to be a teacher at Cornel's ShangAn Campus this year! I am from Cape Town, South Africa. I think that it's the most beautiful city in South Africa! I graduated from Rhodes University in 2015 where I found my love for language and education.
My primary goal as a teacher is to create a safe and open environment where children can be themselves. I think that this is crucial during the learning process as lots of mistakes will be made. Mistakes are a great way for kids to learn and challenge themselves in their growth. I would like to cultivate an excitement for learning! Education is a journey, and I am eager to walk through this journey with my students, getting to know them along the way.
In my free time, I read or travel. I am an avid reader who is always busy with one reading challenge or another- feel free to ask me about it! I enjoy spending weekends hiking and exploring new places with friends. I enjoyed the short time that I travelled in Taiwan, and I am so looking forward to living in Taichung!