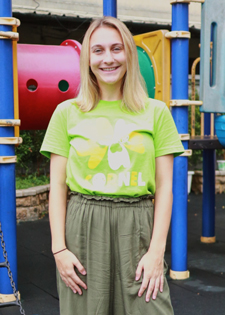 Qualification:

University of Iowa – Elementary Education with a reading endorsement and a minor in Spanish

My name is Morgan Mankle and I am from Des Moines, Iowa in the United States. I graduated from the University of Iowa in 2019 receiving a degree in Elementary Education with a reading endorsement and a minor in Spanish. I was able to complete part of my student teaching practicum in Ávila, Spain and got an itch for teaching abroad. I also recently completed an online Teaching English as a Foreign Language course so I have that certification as well. I have been substitute teaching in Iowa for the last school year and am so excited to finally have a classroom of my own at Cornel!
I have always had a love for working with children so becoming a teacher just seemed right for me. I think it is so important to create a learning environment in which all of my students feel safe, comfortable and welcome. Once children are comfortable around their teacher and their peers, they become so much more open to being silly in the classroom. I strive to bring energy into the classroom to show my students just how fun learning can be.
Outside of the classroom, I love to get outside as often as possible! I enjoy going on hikes, biking or just getting lost walking around exploring new places. I am very excited to do all of these things in my new beautiful home, Taiwan. I also love to travel. I have been lucky enough to do a lot of traveling around Europe and am looking forward to seeing as much of Asia as I can while I am over there. My more leisurely hobbies include reading and listening to music. I love to get lost in a great book and can spend hours listening to good music. I hope to find some fun music festivals or concerts to go to in Taiwan!