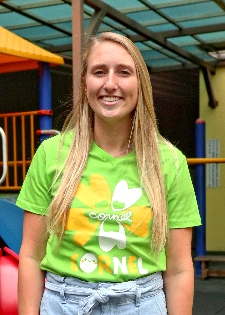 Qualification:

Iowa State University – Bachelor of Science in Elementary Education
Hello! My name is Lexie and I am excited to be starting out my teaching career at Cornel! I grew up in a small town in Iowa called Ida Grove with my parents, David and Karen and my two siblings, an older brother, Nick, and a younger sister, Sarah. I studied and graduated from Iowa State University with a Bachelor of Science in Elementary Education. I am beyond excited to have been given this amazing opportunity and to join the Cornel team!
My philosophy of teaching involves creating a community in the classroom. I know as the teacher I will learn just as much from my students are they will learn from me, so I want to create a welcoming environment so that everyone can contribute and share their own unique experiences.
I am excited to explore the world and can't wait to immerse myself in the Taiwanese culture and learn from you. I hope to see and explore as much of Taiwan and Asia as I can. Hiking, exercise, and snowboarding are a few things I enjoy along with exploring. One thing I cannot live without is music, so I will definitely be sharing my love of music with my students!