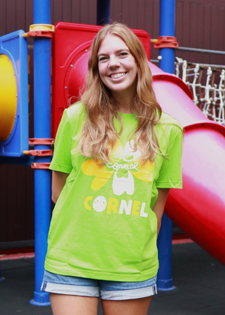 Qualification:

Queen's University ─ Bachelor's of Education
Global Development Studies and a certificate in International Studies

My name is Lauren and I am so excited to be joining the Cornel family this year. I am currently completing my Bachelor's of Education at Queen's University in Kingston, Canada. I completed an undergraduate degree at Queen's University as well, with a major in Global Development Studies and a certificate in International Studies. My studies have brought me to China, India and Ireland, which has helped me to gain a broader perspective on life and on education. In the 5 years of my university education, I have worked with students of all abilities and ages from Kindergarten to Grade 6.
I love being in the classroom and having the opportunity to work with my students everyday. As a teacher, I strive to get to know each of my students as individuals and develop a program which caters to my students' diverse needs and interests. I ensure that I connect the curriculum to relevant to my students' lives and their interests. I believe it is important to make learning fun for students to engage in and my classroom is a place for students to be comfortable and happy in. I love the outdoors and staying active, and try to incorporate these passions into my teaching at every opportunity. I use Universal Design for Learning and Differentiated Instruction in all subjects and areas to ensure that all students in my classroom can succeed. I was drawn to Cornel School because we carry the same values in regards to education.
I am looking forward to taking advantage of all that Taichung and Taiwan have to offer! I am a very adventurous person, so I am excited to try everything, from eating local delicacies, to driving a scooter for the first time, to camping in the mountains. You might be familiar with my older sister, T. Hannah, and I am incredibly lucky to have her be my tour guide and help me settle into life in Taichung. She has told me so many stories of her time so far at Cornel School and in Taiwan, and I am counting down the days until I can live these stories myself.
I am counting down the days until I can meet my new class and the Cornel family! Until then, I hope you are all staying safe and healthy!