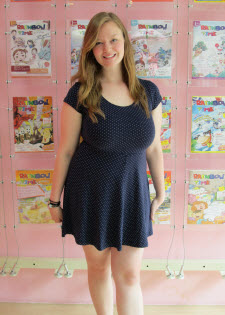 Hello! My name is Kyra Springer and I am a kindergarten teacher at Cornel's ShangAn campus. I am from Ottawa, Canada and I graduated from Queen's University in Kingston with a degree in primary education. Prior to this, I graduated from Carleton University with a degree in journalism, with a minor in English and French.
Before moving to Taiwan, I spent many years working with children. I have experience teaching grades 2, 3, and 4. I have also worked with children of various ages in my experience working at summer and winter camps, tutoring, and extracurricular activities. I love teaching in Taiwan. I am passionate about teaching and I always strive to help my students achieve their goals.
My main goal in the classroom is always cultivating a love for learning. I emphasize the importance of reading and writing. I create an environment that encourages exploration and creativity in learning so that students can always make their work unique and fun for themselves. I recognize that all students learn differently and strive to meet the individual needs of every student in my class.
Outside of school, I love to spend my spare time reading. I love reading texts of all genres in English or French. I enjoy dance and yoga and have taken lessons in both for many years. I also love spending my time outside walking, hiking, or swimming.
Teaching in Taiwan has been a wonderful experience. The students at Cornel are always excited to come to school and they do a wonderful job with their learning. It always makes me so happy to see my students progressing and improving at school.