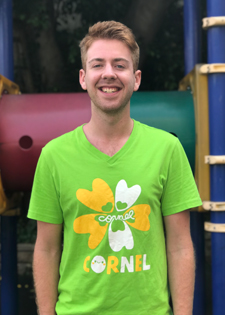 Qualification:

Penn State University – Secondary Mathematics Education
Hello, my name is John Quinlisk. I am from outside of Philadelphia, Pennsylvania and graduated from Penn State University with a degree in Secondary Mathematics Education and a Certificate to Teach English as a Second Language. I have spent the last year living in Shalu, Taichung teaching English to grades 1 through 6 at Jian Guo Elementary School, I loved it so much that I'm staying in Taiwan for a second year!
I am very excited to be teaching this year at Cornel's Nanmen Campus! I believe that a classroom needs to be a safe space where every student feels comfortable and supported so that they can focus on learning. I plan to create an enjoyable community within the classroom so that all of my students can have fun while learning English and become curious about the language. My goal is for every student to want to come to English class and to want to keep learning the language outside of the classroom.
In my free time I love to do anything that gets my body moving, especially if it's outside. Running, swimming, biking, rock climbing, and hiking are a few of my favorite activities. One of my absolute favorite things to do in life is to eat food, especially at night markets. My favorite food in Taiwan right now is a slightly spicy scallion pancake with egg – so delicious! I love meeting and talking to new people so if you ever see me around Cornel or Taichung, please say hi!