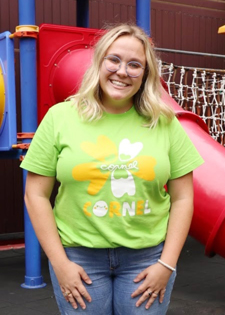 Qualification:

University of Missouri ─ Science degree in Early Childhood Education

My name is Emma Watson and I am so thrilled to be starting my teaching career at Cornel. I am from a small town in Missouri in the United States of America. I attended the University of Missouri in Columbia where I graduated with a Bachelor of Science degree in Early Childhood Education. Go Tigers! After signing up to attend a teach abroad conference in Iowa, I was contacted by Cornel and instantly felt drawn to the school. Shortly after, I accepted a teaching position at Cornel.
For as long as I can remember, I have always wanted to be an educator. I come from a long line of teachers who instilled the passion of education within me from a young age. Throughout my college career, I have had experience working with students from birth to third grade. It is my belief that students are actively curious about the world around them and strive to seek answers surrounding their own inquiries. That is why I practice an inquiry-based approach through authentic experiences, such as play. Every student that enters our classroom comes with a unique set of skills, experiences, and needs. Our classroom will foster a community that welcomes collaboration, respect, problem-solving, understanding, and creativity in every aspect of our day. I want students to feel empowered by their voice and experiences, feel comfortable sharing with others, and use themselves as an asset in their own learning. I cannot wait to learn from my students, just as much as they will learn in our classroom.
In my free time, I love to experience new places by being outdoors and eating amazing food. I also love to sing and play the piano. I am currently teaching myself how to play the guitar and hope to master it while I'm in Taiwan. Additionally, I love to sit down and journal, curl up and read a good book, and cook for my family and friends. I am confident that I will continue to do all of the things that fill my heart with joy in my new home. I cannot wait to meet your children and spend the year learning about life in Taiwan!