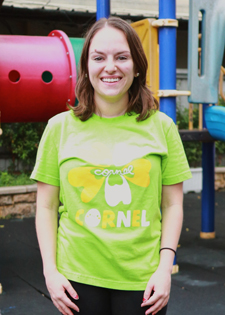 Qualification:

University of Central Missouri  – Bachelor of Science in Elementary Education

My name is Ashley Flerlage. I am from St. Louis, Missouri in the United States. I studied at the University of Central Missouri and earned a Bachelor of Science in Elementary Education in 2016. After graduating, I moved to Kansas City, where I had the unique privilege of teaching refugee and immigrant children from more than 21 different countries! Having such a diverse classroom inspired me to go back to school. I completed my Master of Arts in Teaching English as a Second/Other Language in 2019 and decided I wanted to teach abroad. I cannot wait to start my teaching abroad journey in Taiwan!
Teaching and learning are my passions! Students learn best when they feel safe and loved. Together, we will cultivate a class community that is welcoming, accepting, and feels like a family. In our classroom, students will learn through engaging, hands-on lessons. I love to incorporate music, games, and movement into my lessons whenever possible. In addition to academics, we will develop social and emotional intelligence by learning about our brains and practicing cooperative learning.
Outside of the classroom, you can usually find me reading a book, trying a new recipe, or exploring a new place. I am so excited to immerse myself in Taiwanese culture this year! I hope my students and families come prepared with suggestions for new food and new adventures!