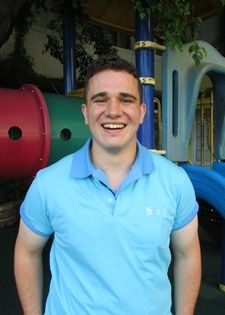 Milwaukee, Wisconsin, USA
Hello! My name is Jacob Riederer and I am a teacher at Cornel English School. I am originally from Milwaukee, Wisconsin and attended school at the University of Wisconsin-Madison where I received a Bachelor's degree in Elementary Education and Political Science.
For several years, I worked with students of all ages from preschool to high school. Recently, however, my focus has been working with younger learners. I have ESL certification and have spent the past two years working with students who speak English as a second language as well.
My hope as a teacher is to instill my students with a lifelong passion for learning. I strive to accomplish this goal by building a strong classroom community in which students can take risks and be themselves. In designing and implementing my curriculum, I am passionate about creating engaging and challenging learning opportunities for students by incorporating multiple modalities, especially the arts, and building on students' interests and culture. As a teacher, nothing is more rewarding than seeing students bring their passion into the classroom and have fun as they learn new things.
Beyond the classroom, I am an avid trumpet player, ukulele aficionado and professional whistler. I am also passionate about politics, especially its intersection with education, and am excited to learn more about Taiwan's education system during my time at Cornel.
If you are ever at the Shang An Campus, feel free to stop by and say hello.