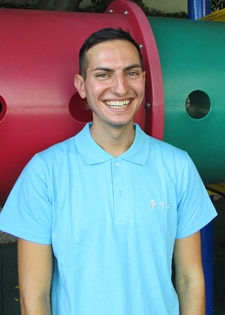 Hi there! My name is Michael Neumann and I am SUPER excited to be a grade 2 and 6 Teacher at Cornel's Nan Men Campus this year! I am Canadian, and I grew up in the capital: Ottawa. I attended Trent University, where I received a Bachelor of Arts in Sociology, as well as Queen's University where I finished my Bachelor of Education. Through my schooling, I was lucky enough to participate in classrooms from Kindergarten all the way to grade 8.
My number one priority in a classroom is creating a safe and accepting environment where students challenge themselves and each other. I strongly feel that teachers must encourage students to take risks and learn from their mistakes. In my classroom I will strive to develop a strong sense of community and get students excited about learning. I believe that student-driven learning should be at the center of a classroom. When I am teaching, I feel it is my responsibility to provide my students with variety and choice in their assignments, allowing students to challenge themselves and explore their interests. I also enjoy discovering the interests of my students and incorporating them into class material. This could include playing games, music, drama, dance and art!
I have known for a long time that I wanted to teach abroad and I am thrilled to begin the journey in Taiwan. I am particularly interested in gaining new perspectives on education and learning from students and teachers in a different part of the world than my own. From what I have heard (and experienced so far) Taiwan is an absolutely incredible country and I am excited to experience everything Taiwan has to offer.
If you have any questions or just want to say hi please drop by Nan Men say hi!