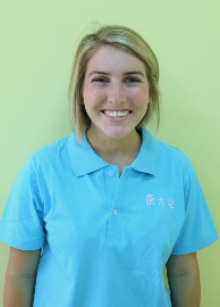 Qualification:

Kennesaw State UniversityーBachelor of Science Degree in Early Childhood Education
Hello! My name is Amanda and I am so excited to be teaching at Cornel! I was born and raised in a small town not too far from Atlanta, Georgia. I recently graduated from Kennesaw State University with a Bachelor of Science Degree in Early Childhood Education. Throughout my college career I was able to work with elementary students of different ages, from preschool to fifth grade. My love for teaching and traveling began and grew in college. I knew I wanted to teach abroad after spending my last three months of college student teaching for a 2nd grade class in Guayaquil, Ecuador.
As a new teacher, I am excited to share my passion and to continue to learn and grow from my students and fellow educators. I believe it is important to create a safe learning environment with having good classroom management and a communicative relationship with both the students and guardians. Every child is unique and I want to embrace that. I like to plan lessons that encourage and challenge each child to take risks but also be themselves in doing so.
Outside of teaching, I love spending time with friends and family. I love exploring and being outdoors. I enjoy running, lifting, and hiking but I also enjoy relaxing by listening to music, watching movies, and reading just as much!