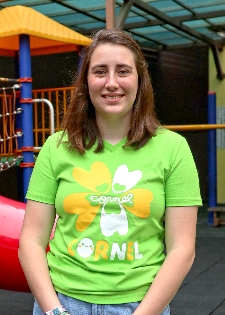 Qualification:

Wisconsin University – Early Childhood Education
Hello! My name is Shelby Eklund and I am from the state of Wisconsin.  I recently graduated from the University of Wisconsin-La Crosse with a degree in Early Childhood Education.  During my time at University, I have taught in grades kindergarten through fourth. I learned a lot from my time in these grades and can't wait to get started at Cornel!
As an educator, my philosophy is very play-based and student-centered.  I love making learning enjoyable and fun for my students. These can be seen in several different ways, in my classroom.  Some ways included playing educational games and centers. I also love to incorporate different songs, and stories in my classroom, as well as, inquiry and project-based learning.  I love music and stories, and this is a large part of how I teach.
Outside of the classroom I love exploring and being outside.  Hiking and camping was a huge part of my life back home, and I hope to continue these experiences here as well.  Some of my other hobbies include knitting, cooking, and backpacking. I can't wait to start exploring, and learning more about Taiwan!