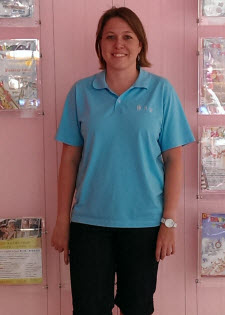 Durban, SOUTH AFRICA

Qualification:

UNIVERSITY OF KWAZULU-NATAL, DURBAN, SOUTH AFRICA: BACHELOR OF BUSINESS ADMINISTRATION; UNIVERSITY OF SOUTH AFRICA: POST GRADUATE CERTIFICATE OF EDUCATION

Experience:

Business Administration: South Africa and London, UK (4 years); In South Africa for 2 years: Grades 1-6: Clifton Preparatory School, Nottingham Road, South Africa.

2011-2013: Cornel School, Taiwan: ShangAn Campus: HEAD TEACHER: Elementary & Kindergarten Teacher; Business Language Teacher (Adults)

2013-2014: Cornel School, Taiwan: FOREIGN DIRECTOR: Nan Men, GongYi, ShangAn, 'Little Cornel' Campuses.
Susan graduated with her Bachelor of Business Administration from the University of Kwazulu-Natal. She furthered her education obtaining her PGCE from the University of South Africa. While studying she worked as a teacher assistant where she was able to gain valuable teaching experience. After teaching for 2 years at Cornel her administration skills were noticed and she was promoted to Foreign Director.