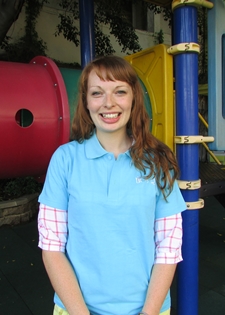 Hello! My name is Molly Carter. I teach the Munchkins and the Hobbits at ShangAn campus. This is my first year at Cornel School and I'm very excited to be here!

I graduated from Carleton University in Ottawa, Canada with an Honours Bachelor's degree in Neuroscience. I grew up in the smaller town of Aylmer, very close to Ottawa. I am fluent in English and French. I've been interested in teaching for a long time, especially abroad. I've spent many years tutoring and coaching in Canada. Through high school and university I was a math, science and English tutor. I was also a horseback riding coach for a few summers. I love being around children, and I feel right at home in the classroom.I am looking forward to creating a class where students engage in fun activities that promote happy learning.

I have a love of music, and I would like to be able to incorporate that passion into my classroom. I feel very lucky to have such amazing children to teach, and I mostly look forward to what I can learn from them!

I am thrilled to be in beautiful Taiwan. I have heard wonderful things about the people, the food and the scenery of this amazing country. I have always been interested in living and travelling abroad, especially in Asia. I think there is a rich culture to be discovered and I can't wait to experience all of it! I feel very lucky to have the opportunity to work in such a wonderful school while fulfilling my dream of travel. If you have any questions, or want to get to know me, please feel free to email me or stop by ShangAn to meet!