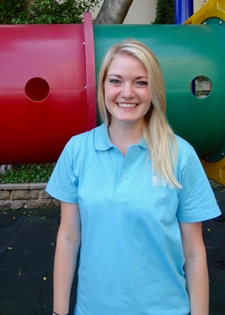 Hello! My name is April Taillefer and I am a new teacher at Cornel. I am from a small town in Ontario, Canada. After high school I attended Nipissing University for 5 years where I received a Bachelor of Arts in Geography (Hons) and a Bachelor of Education in the Primary/Junior Division through the Concurrent Education program. I have always had a love for travel and teaching and as I entered into my final semester at Nipissing University, I began to realize that as much as I love my family and friends, my heart was no longer in Canada. Therefore, I decided to travel and teach overseas with one of my fellow classmates from Nipissing! I am very excited to start this new journey and chapter in my life.
Throughout my five years at Nipissing I was able to teach a variety of grades including Kindergarten, and other grades ranging from 3-6. Most of my practicum experience is within Kindergarten. I believe I have learned a great deal, not only from the educators but from the students as well. I strongly believe that every student learns differently, and therefore we must be flexible and learn to teach in different ways as well.
My central goal as a teacher is to create a safe, welcoming and comfortable environment for my students. I believe that routines and rules are crucial for all learners but especially young learners. The environment a student learns in is one of the most important contributors to their success. The rules of equality and respect should be made evident on the first day of school. However, the students should create class rules with the teacher, thus they can ensure that they will feel safe and comfortable within the classroom. It is important as a teacher to always be aware of your student's needs and interests,therefore as a teacher I always try to cater my lessons towards things that will keep my students engaged and excited about learning. Essentially, I believe in order for a student to be successful and to enjoy their education a teacher must provide a safe, respectful and fun environment.
Along with my love for teaching, I also love the outdoors, sports and animals. I am very excited to be living in Taiwan and to be able to explore and on my days off you may find me hiking trails with my headphones in as I also love music! Fitness is also one of my passions and I love staying active and healthy! Throughout school I always played a variety of sports and enjoyed being a part of a team. Lastly, I adore animals-dogs are my favorite!