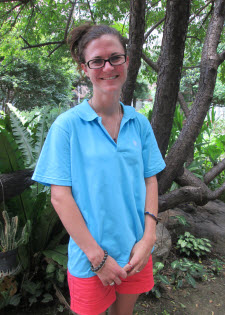 Hi there!
My name is Michelle Huffman and I am a teacher at Cornel's Shang An campus. I am from Midwest America and attended the University of Kansas, where I received a Bachelor degree in Elementary Education in 2011 and a Master degree in Gifted Education in 2013. While studying for my Master's degree, I also obtained my certification to teach middle school mathematics.
I grew up in a big family with four brothers where I was the only girl. Coming from such a large family, I learned a lot about helping others, cooperating, and being patient. I knew very early on that I wanted to be a teacher because I loved the idea of helping people learn new things and find new interests.
In my final year of university, a friend of mine told me about the UNI International job fair. It had always been a dream of mine to teach abroad, but I never knew if I would actually be brave enough. Once at the fair, I was given multiple job offers, but there was something about Cornel that really stood out. I could see that they more than just a school, and were a family that truly cared about its students and staff.
I decided to move to Taiwan and it has been one of the best decisions I've ever made. I spent my first year as a grade 1 and grade 5 teacher at the Shang An campus. In my second year, I was given the opportunity to help pilot the English program at Ming-Der high school where I had a great experience, and learned a lot. However, by the end of it, my heart was still with Shang An and younger students, so I was given the chance to come back where I am again teaching grades 1 and 5.
Outside of my passion for teaching, I also enjoy traveling to different countries and experiencing new cultures. I also love taking weekend trips to see many of the beautiful sites of Taiwan. Rock climbing and hiking are two of my favorite things to do in my free time. I also enjoy going to dinner with friends and getting to know new people.
I strive every day to be a teacher where students feel comfortable being themselves. I truly believe that learning another language is one of the most challenging things to do as it requires the upmost concentration and dedication. I hope that students in my class understand that I respect their goals to be Multilanguage speakers and will do my best to help them achieve the level of expertise they wish to achieve. Please feel free to come by ShangAn anytime, my classroom is always open- I would love to meet you!