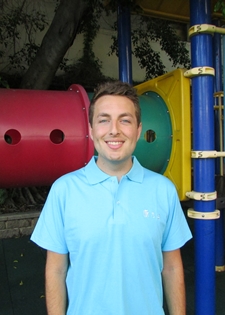 Hello! My name is Tyler Shepard and I am a teacher at Cornel's ShangAn campus. I'm from Sedalia, Missouri in the United States. I studied at the University of Central Missouri and graduated with a degree in Elementary Education in May 2015. I've had experience teaching American children in first, third, fourth and fifth grade and am excited about the opportunity to teach English to children in Taiwan!
I've always loved to travel and couldn't wait to combine that with my other love of teaching. I believe education is one of the most important aspects of any culture and I have a passion for engaging students of all backgrounds in a variety of fun, educational lessons. Creating a safe, inclusive, and positive classroom environment is my goal in any situation I teach. I want my students to be invested in their learning and like it best when they collaborate as a class, leading their learning in the direction they choose. I believe students are more able to succeed when combining listening, speaking, and movement in activities and lessons.
When I am not teaching, I love to be with family and friends, with food, talking, music, and games almost always involved. Since moving from home, I look forward to surrounding myself with new friends and visiting new places that I never dreamed I would get to see. Taiwan has already impressed me with its beautiful scenery, tasty food, and kind people. As my journey here begins, I can't wait to see what I can teach others, and, more importantly, what others can teach me.
Here we go!