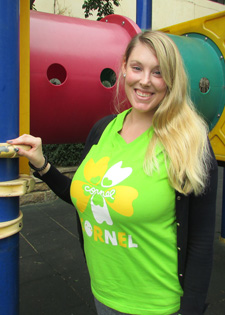 Hello! My name is Brittany Demmond and I am a teacher at Cornel's Nan Men campus. I am from Indiana in the United States. I studied and graduated from Purdue University with a degree in Elementary Education. Upon graduating I realized I wanted to teach overseas so I attended an international overseas job fair, which is how I began teaching at Cornel.
Before teaching in Taiwan I had taught in all elementary grades from Kindergarten up to grade six. I completed my final practicum in a kindergarten classroom and gained a lot of experience teaching this grade level. I believe teaching kindergarten is what I do best. I have since taught English for two years at Cornel, and will continue to teach at the NanMen campus.
My main goal as a teacher is to help create an environment for my students so that he or she feels confident and comfortable learning and reaching his or her greatest potential. I like my classroom to be student-centered and I try to teach students keeping his or her interests in mind. Also, I try to use as many active learning-listening strategies while teaching as possible. This ensures that my students are learning and understanding what I'm teaching. As a teacher, I value active learning experiences. I believe that students learn best when he or she is doing, so this is why I try to create interactive and exciting lessons for students to participate in.
When I am not teaching you will find me surrounded by friends. I am a very outgoing person and I love spending time with others. Also, I enjoy traveling and going on adventures! I love that it is so convenient to visit other cities in Taiwan, so that is what I enjoy doing on the weekends and during any holidays. Watching movies and listening to music are other hobbies that I have.