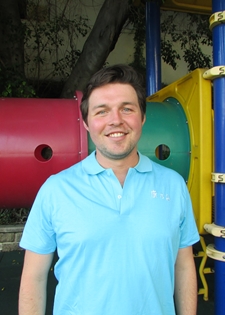 Hi!
I am Brock Young, and I am very excited to teach the wonderful students at Cornel. I grew up in a small town in Canada. I graduated from Queen's University in Kingston, Ontario Canada, where I taught grade 4 and kindergarten.

Before attending Queen's University, I worked as a writer for a radio and television company in Ottawa, the capital of Canada. I wrote scripts, stories, advertisements, and jingles for radio and television stations across North America. While working in radio, I also guest lectured at Algonquin College.

My experience in radio taught me how to make up songs quickly! I enjoy playing instruments, singing, and writing songs with students. I believe that all children are unique, and have amazing ideas to share. I am excited to teach, learn, and grow with Cornel students.

Outside of the classroom, I like to play Irish instruments. I have played mandolin, drums, banjo, guitar, violin, and sang in Ireland and in Canada. I brought my mandolin to Taiwan, and I am excited to show my students! I also like to play sports like hockey and American football, and I enjoy writing short stories.

The Taiwanese people I have met have all been so nice, and I am very eager to immerse myself in Taiwanese culture. Let the adventure begin!