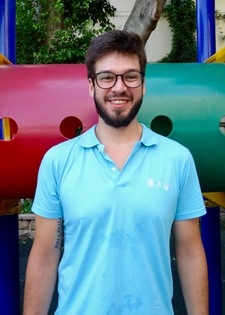 Hello, my name is Andy Haverstick! I grew up in a small town outside of Columbia, MO; I graduated from the University of Missouri with a bachelor's degree in both Psychology and Sociology. During college I was especially interested in social dynamics and how individuals relate to one another. One thing that I love about the classroom is being able to witness how the students work and interact with one another, with myself, and together as a community. I look forward to being part of Cornel's great community here in Taiwan!
For several years prior to moving to Taiwan I participated in a Special Education program; teaching life, social, and work skills geared towards individuals with mental and physical disabilities. These experiences were very beneficial to me and the lessons I learned became invaluable. Since moving to Taiwan I have transitioned and taught for one year in a classroom environment and began teaching English, speech, and writing! I look forward to a great year at Cornel!
Outside of the classroom I enjoy cooking, and trying new cuisine, rock climbing, reading, hiking, and competitive gaming! In addition I have thoroughly enjoyed travelling around Taiwan and I can't wait to see more!