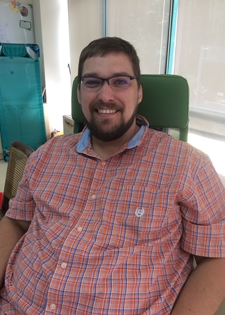 Fort Wright, Kentucky, USA
Hello, my name is Kyle Mullaney! I am a grade 5 Head teacher at the Nanmen Campus. I'm from Ft. Wright, Kentucky. I graduated from Murray State University in2005 with a degree in Organizational Communication. I moved moved to Taiwan in 2006. Since then I have taught students and teachers at all levels.
When I moved to Taiwan, and married my wife Jenny, we lived in Pingtung. While there, I taught students at all age ranges. Five years ago we moved to Taichung. Since moving to Taichung I have taught at several universities and language centers. In the past two years I have been studying for an M.A. in Teaching English as a Foreign Language at Tunghai University. My area of focus is in culture and communication
In class I stress communication, confidence, and creativity. I believe that having an open atmosphere in the classroom promotes confidence and speaking abilities. Moreover, helping students find an interest allows them to explore the world in English. This helps develop motivation and engagement.
Outside of the classroom I enjoy various activities. I spend time with family and friends. We often spend afternoons in the parks around the city or traveling around the island. Moreover, I enjoy reading and academic research. Lastly, I enjoy fine foods and drinks.