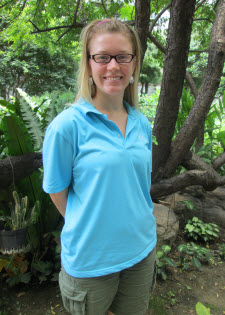 Hi! My name is Kalee Sparr and I am the grade 1 and grade 3 teacher at Cornel's Nan Men Campus. I am from Council Bluffs, Iowa a city of about 60,000 people. I graduated from the University of Northern Iowa, a well-known teacher recruiting university, in December 2011. I currently hold a degree in Elementary Education, as well language arts and reading endorsements in the K-8 grade levels. Before discovering this amazing opportunity to teach in Taiwan, I was working in St. Louis, Missouri as an Elementary Reading Specialist.
Taiwan has welcomed me with open arms since the moment I arrived. I will be staying to teach a third year here at Cornel, and could not be happier about this decision. Teaching in Taiwan has furthered my experience of working with students at the elementary level, as well as giving me familiarity to work with junior high students through graduate classes. My most rewarding teaching experience in Taiwan continues each day when I work with the diverse, brilliant students of Taiwan. I believe their diversity enhances the quality of learning experiences for all of the students. I also enjoyed the Summer Program here at Cornel. Students are making discoveries while having fun learning. There are many field trips including nature centers and museums.
My goal as an educator is to encourage students to be lifelong learners and productive citizens in their communities. I enjoy working with diverse students and accepting the challenge of differentiated instructional methods. I am a dedicated teacher with the passion and drive needed to give our future generations the knowledge and enthusiasm to lead enriched lives.
I spend my free time doing many of the same hobbies I enjoyed when I was living in the states, as well as getting to try new things while living here in Taiwan. I enjoy reading, photography, yoga, and being outdoors. While living in Taiwan I became a certified scuba diver and have been fortunate enough to travel to other Southeast Asian countries. If you would like to know more about me, feel free to ask!