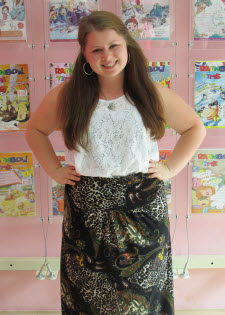 Hello! My name is Josilin Moede and I teach English two levels at Cornel's ShangAn campus. I am from Allenton, Wisconsin and I graduated from Carroll University. I obtained a Bachelor's degree in Elementary Education with a minor in English Education. Before I started college I knew I wanted to teach abroad. After graduation I moved to Taichung, Taiwan to pursue my dream of teaching English overseas.
In the United States I have taught a range of grades and levels in many schools. My first experience was teaching kindergarten through 5th grade summer program, teaching Spanish as a second language. Then, for many years I worked at two after-school programs for kindergarten-5th grade: Boys and Girls Club of America and an ESL after-school program. On the side, I have been a teaching assistant in a kindergarten classroom, taught 2nd grade English, and tutored 3rd and 4th grade Math. I completed my Education degree, teaching 4th/ 5th grade in Milwaukee, Wisconsin.
No matter what grade, level, or subject, my goal is for the students to promote their own education and learning. I want my students to be proud of what they have accomplished and know that they are making progress. The students take pride in what they have learned and how they have changed as students in the classroom and people in the outside world.
Outside of the classroom, I like to travel, cook, and shop. Every weekend I travel around Taiwan and check out new parts of the cities and local shops. When I am not traveling, I am cooking and shopping. I have taken up cooking made with food from local markets and flower arranging from the local flower markets.