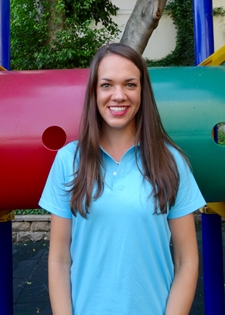 Hi there! My name is Kara Tiplady and I am very excited to be teaching this year at Cornel! I am from Sudbury, Ontario in Canada. I studied at Nipissing University where I completed my Bachelor of Arts in Geography as well as my Bachelor of Education in the primary and junior divisions. It has always been my intent to teach abroad, in fact it is one of the main reasons I chose teaching. I came across Cornel school unexpectedly but instantly fell in love with it and I couldn't be more excited to join the Cornel family!
Throughout my five years in the education program I have had experience teaching in all primary and junior levels from kindergarten up to grade 6, as well as in the intermediate and senior divisions at the high school level. A large majority of my teaching experience however has been in kindergarten and my heart truly lies with younger students.My goals for the year will be to assist my students in reaching their potential and feeling comfortable while growing confidence in their English language abilities. I believe that each student has his or her unique strengths in varied language learning and preferred learning styles.Therefore I strive to provide differentiated learning opportunities for all my students to ensure their growing success.
My classroom will be a caring, safe, and positive learning environment so that all students feel welcome and eager to learn each and every day. In addition to this I believe that respect, and a caring relationship with both my students and their families are key for a wonderful teaching/learning experience.
Outside of the classroom you can find me participating in a variety of sports and leisure activities. I like to incorporate being physically active into my daily life as well as teaching as I find it helps to get my students excited and engaged in the learning. I have a passion for all things outdoors; my summers are spent at my family camp where I enjoy hiking, swimming, canoeing and cliff jumping. My true passion lies on the basketball court; you can find me there every chance I get. I also have a passion for travel, I live for the adventure that travelling brings. I have met some amazing people throughout my travels and saw some incredible sites. I love the learning opportunities that travelling brings as well. I am always keen to learn about new places and cultures, and as a teacher I believe this is very important as it is a lifelong learning process and I will be continuously learning new things and ways to broaden teaching to cater to my students learning.