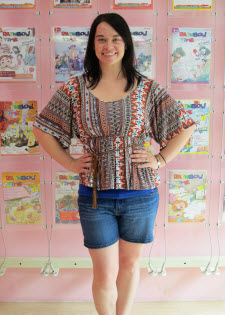 Minneapolis, Minnesota, USA

Nina graduated from the University of Minnesota Duluth with a Bachelor of Early Childhood & Special Education. She then went on to obtain a Masters of Arts in Education: Curriculum & Instruction.

Nina's students all have a special connection her demonstrating her nurturing quality as an educator.

She is an excellent communicator and is able to reach her students even at the very earliest of ages.

She is passionate about learning and loves to work with young children.
Hello!
My name is Nina Costello. I have dual licenses in early childhood (birth-age 8) and special education. I completed my Masters in Education through College of St. Catherine in Curriculum and Instruction. Both of these undertakings have guided me into the wonderful, exciting, and ever-changing world of teaching.
Working with children gives me an interesting perspective on life through a child's eyes. It keeps me more imaginative, realizing what is really important, and practicing forgiveness. Previously I worked in a before and after school program for children from kindergarten through fifth grade. I was the site manager and worked to create enrichment programming for the students as well as led the staff. Before coming to Taiwan I was a kindergarten teacher. During that time I learned the early years were the best fit for my teaching style. In my classroom, I believe in incorporating the arts in as many ways as possible.
Outside of teaching I love to immerse myself in art, culture, and travel. I enjoy seeing new places, trying things I have never done before, and seeing as many places as I can on this beautiful island. I have been a dancer my whole life, play two instruments, and enjoy exploring through multiple art mediums. I love living in Taiwan. This island is simply incredible and I am so grateful for the opportunity to live and work here.