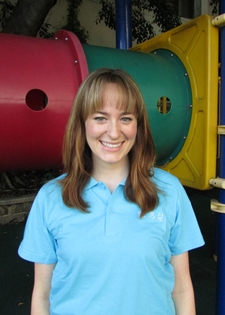 Hello! My name is Lauren Abbott, and I am a grade one and grade three teacher at Cornel's Nan Men campus. I am very excited to live and teach in Taiwan! I am originally from Sugar Land, Texas, but my family currently resides in Edwardsville, Illinois. I graduated from the University of Missouri in Columbia, Missouri with my bachelor degree in elementary education. I have lived in many states in the United States, so when the opportunity for traveling to Taiwan to begin my teaching career arose, I jumped at the chance to make a difference in the lives of children across the globe!
I first realized I wanted to be an educator when I was a freshman in college and studying with a friend. I very much enjoyed being able to explain the concepts we were learning in different ways to fit his understanding! I am teacher that enjoys individualizing my educational teaching strategies to fit the needs of each and every student, and I also love to integrate the arts into my teaching! I believe that a fun and enjoyable classroom environment with music, art, and movement can greatly improve students' levels of engagement and understanding.
I take great pride in working with children and inspiring them to accomplish tasks that they did not believe could be accomplished. I believe a student's sense of self-worth is a vital component to how each student learns and that each student should know that they matter both in and out of the classroom. Fantastic teachers are patient, kind, determined, creative, have a good sense of humor, and contain the humility to be able to correct their own mistakes and acknowledge when they are wrong. I believe that teaching character to students is entirely possible and equally as important as teaching core subjects so that all students have the opportunity to become respectable and honorable members of society.
In my free time, I enjoy exploring all of the exciting things the city of Taichung has to offer, such as the food, shopping, and culture of the people. My hobbies that I have brought over from the States include spending time with friends, reading, writing, singing, painting, and watching shows and movies. I also have an obsession with baby goats and small dogs! During my free weekends and time off, I plan to travel to different areas of Taiwan and to as many countries as I can! If you want to know anything else about me, feel free to ask. I'm an open book! 🙂