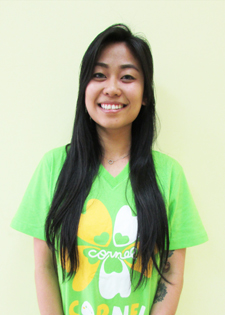 Qualification:

University Ontario InstituteーMaster of Education of Teaching

Honours Bachelor of ScienceーMathematics and Economics
Hello! My name is Cathrina Aguilar, I am a certified teacher from Canada with the completion of Master of Teaching at Ontario Institute for Studies in Education. Prior to this, I also hold the degree of Honours Bachelor of Science with a double major in Mathematics and Economics.
I was born in Taiwan but my family and I moved to Canada when I was very young. My dream was to always teach abroad where I am able to pursue my passion for teaching and travelling, while enhancing my teaching practices. Hence, there is no better choice than to achieve this goal right here at our home country!
I will be teaching at Cornel Shan-An Campus. In my classroom, I look forward to promoting 21st century pedagogy by designing culturally relevant lessons that incorporate cooperative practices, inquiry-based learning, and technology. In order to provide students with opportunities for success, I always strive to use a variety of different teaching strategies and resources available. I have a balanced-teaching style between collaboration and independent work, this will develop students' teamwork and personal achievement skills. I believe that fostering an inclusive learning environment where the students feel safe and empowered in the classroom is primitive to successfully guiding their behaviours and attitudes towards learning.
Besides my involvement working with students, I absolutely enjoy spending time outdoors, maintaining a healthy body and surrounding myself with family and friends. I look forward to exploring and learning more of Taiwan with your children!