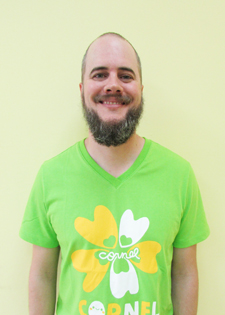 Qualification:

Hampden-Sydney College
Hello!  My name is Kyle Ewers and I am excited to be joining Cornel school this year! I am from Virginia in the United States, and I have been working with students in different roles for over five years, including schools in the United States and in Japan.
I graduated from Hampden-Sydney College, which is a liberal arts school in Virginia.  The college requires all students to complete three-semester "rhetoric" program that teaches the foundations for expressive writing and speaking. I believe that students of all ages perform better when they feel confident communicating with their teachers and peers, and so I hope to instill that confidence in students by giving them opportunities to present their ideas, give short speeches, and perform in skits. I am also interested in using technology in the classroom to help connect students to the content.  I look forward to using recording equipment, online maps, and other tools to prepare Cornel students for the future!
When I am not teaching, my wife and I love exploring local restaurants and night markets.  We have visited several countries in Asia and look forward to learning more about the food, art, and culture here in Taiwan!  If you have any questions please feel free to ask!